Sabudana, the tiny translucent globules that are extracted from tapioca roots, are a common feature across many Indian cuisines. During Navratri festival one can savor a whole range of dishes, cooked up as fasting food using this key ingredient.
It is also a favourite breakfast and evening snack option which also lends itself well to children's lunch boxes. It is used to make the wholesome khichdi, crispy vadas or tikkis and the sweet kheer.
Tapioca or cassava plant is native to South America, whereon it spread to other parts of the globe. It is believed to have been introduced in India by the Portuguese.
Sabudana is extensively used during Navratri or fasting in general, as it is considered to be a healthy non-cereal food. It provides high levels of energy due to its high carbohydrate content.
Because it is starchy in nature, it tends to get sticky during the cooking process. It has a unique texture, which when handled correctly can be used to create some lip-smacking treats.
Traditional Indian medicine uses sago in combination with rice to cool the body. It is used as a herbal remedy to treat several health complaints resulting from too much heat, like acidity, migraines and liver issues.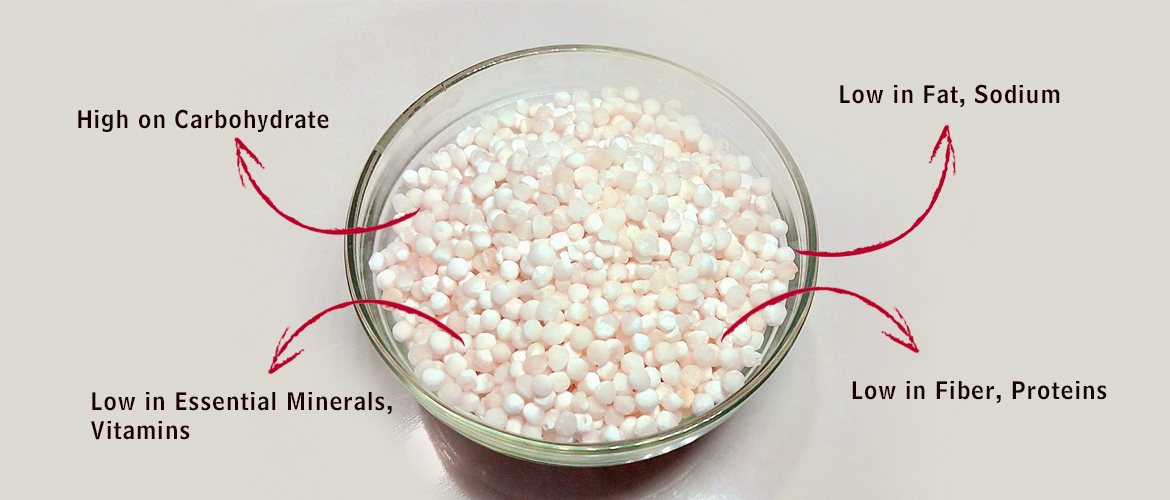 Nutritional Value
Tapioca is made up of almost only carbohydrates. It has very low amounts of fats and sugar. The levels of fiber, protein, sodium, essential vitamins and minerals are insufficient to fulfill our daily needs.
For a boost in antioxidants, vitamins, minerals and healthy fats to any preparation involving sabudana, one can add the following –

Seeds like chia, flax, sesame, sunflower, pumpkin
Nuts like almonds, walnuts, cashews, raisins
BENEFITS OF SABUDANA
It serves as an instant energizer
Sabudana provides loads of energy due to its high carbohydrate content. But at the same time, it is light to digest and is therefore ideally suited as fasting food.
Debility and low digestion
It is hugely useful for people recovering from physical illness or those suffering from low digestion for any reasons.
Healthy weight gain food/bulk enhancer
It is loaded with carbohydrates. So, if one is skinny and wishes to gain weight naturally they should add tapioca to their diet.
Ideal as Baby food
Sabudana is an easily digestible and non-irritating food. It is free from colorants and artificial preservatives. It is therefore safe to be used as baby food for all age groups. Importantly if the child is suffering from diarrhea or malabsorption it can play a significant role in providing nourishment.
Useful for people suffering from Irritable Bowel Syndrome
Tapioca prevents gas, indigestion for people having irritable Bowel syndrome because it is low in fiber and is easily digested.
Keeps blood pressure levels under control
The potassium present in it aids healthy blood flow and lowers the pressure on the cardiovascular system.
DCN TIP
Before making the dishes, the sabudana pearls need to be soaked in water for a few hours and then left to dry in a sieve, until they are separate and moist.
In order to increase the fiber content of recipes made with tapioca flour, try combining it with coconut milk or soaked almonds or it's milk or flour.