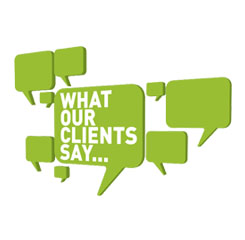 Mr.Ankur Mahendra, 40yrs,Doha (Qatar), January 2021
Lost 6.2Kg; from 115kg – 108.8kg in 1 month
Mr. Aklavya Ahuja, 23yrs, Panchkula, January 2021
Lost 6.5Kg; from 84 kg – 77.5 kg in 1 month
Ms. Ishita Chandra, 25yrs, Yamuna Nagar (Haryana), July 2020
Lost 7 Kg; from 89 kg – 82 kg in 2 months
Ms.Shivangi Bhatia, 20yrs, Panchkula August 2020
Lost 6Kg; from 98.8kg – 92.8kg in 1 month
Ms. Kajal Sachdev, 37yrs, Panchkula, June 2020
Lost 3 Kg; from 78 kg – 75 kg in 2 months
Mrs.Suman Puri, 46yrs, Panchkula, May 2020
Lost 3 kg; from 74 kg – 71 kg in 1 ½ month
Kirti Mahendiratta, 40 yrs, Moga, Punjab, January 2020
Lost 8.6Kg; from 76.5 kg – 67.9 kg in 41/2 month
Ms. Madhulika Aggarwal, 54yrs, Lucknow, Uttar Pradesh, March 2020
Lost 1.6 Kg; from 89.6 kg – 88 kg in 1 month
Mr. Atul Aggarwal, 53yrs, Lucknow, Uttar Pradesh, March 2020
Lost 2 Kg; from 107 kg – 105 kg in 1 month
Great diet plans. Just about eating healthy and nutritious food. Never had the feeling that I am on diet as I could eat everything. Very delicious recipes shared by you.
Neha Aggarwal
Lost 5.5 kg in 1 Month
Dr. Ruchi Goyal, is an excellent dietician. Her diet charts do miracle to your body. I have lost 5.5 kg
weight in a month and never felt hunger. I not only enjoyed having a variety of foods but cooking them too! It has been a great experience and I am heartily thankful to her.
Neeta Barnwal, 42 yrs, Panchkula, 22-July 2019.
Lost 9.7 kg in 1 and 3 Month
Raghuvansh Pandhi, 15yrs, Panchkula, 7 July 2019
Lost 7kg in 1 Month, School Student
I took a diet plan from Dt Ruchi Goyal. I am a school going boy and lost 7 kgs in just a month. I feel
she gives such a nutritional diet that is healthy and tasty as well.
I had a very good experience with her.
Neha Gupta – Cancer survivor
I had a wonderful experience with Ruchi.
Since I am a cancer survivor, I had some issues regarding my overall health.
She made my diet keeping in mind my history and even helped me resolve many of my everyday
problems. I feel much energetic and got to know many new recipes. I learnt the right way to eat
healthy and still lost 4-5 kgs in 3 months itself. I have lost inches also but never starved during the
whole term.
Ms. Upasna Goyal, 31yrs, Panchkula, 1 July 2019
Lost 3.2Kg; from 67.6kg – 64.4kg in 1 month
Ms.Anu Gupta, 55yrs, Panchkula, April 2019
Lost 6.2 Kg; from 74.9 kg – 68.7 kg in 2 month
Dr. Ruchi Goyal is amazingly good. Her diets not only helped me lose weight but also helped me gain confidence and energy.
She helped me overcome all my apprehension about diets since my earlier experience with one of the renowned dietician was very bad.
The earlier dietician made me lose weight but I lost my health too!
Dr. Ruchi Goyal's diets are very nicely curated with wonderful recipes. Not only me but my entire family has benefitted from her diets.
Thanks a lot Dr. Ruchi Goyal
BM Sharma
Lost 3 kgs in 1 month
Ms. Isha Sharma, 31 yrs, Panchkula, April 2019
Lost 3.5 Kg; from 64.1 kg – 60.6 kg in 1 month
I am glad that I met Ruchi. Although I am in medical field but was not eating in a proper and healthy way. But with the guidance of Ruchi, I came to know that by eating healthy we feel healthy. The recipes are so easy to make. Being working firstly I thought it will be tough to manage but I never faced any difficulty. Even my family members are indulging in healthy eating, all thanks to Ruchi. And of course I have lost 3 kg in a month.
Mr. Ayush Gupta, 22 yrs, Panchkula, March 2019
Lost 3.8 kg; from 73.6 kg – 68.8 kg in 1 month 9 days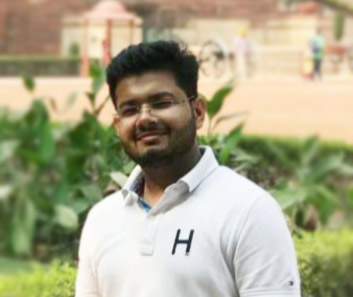 I tried all gyms and various kinds of workouts but could not achieve a sustained progress. Ms. Ruchi Goyal with her professional and personalised approach acted as a perfect guide.

With her, I have been able to-
-Improve my health
-Lose weight
-Increase my concentration levels
-Manage my mood swings
-Study better

Ms. Poonam, 48 yrs, Chandigarh, Dec 2018
Lost 6.5 kg; from 90 kg – 83.5 kg in 1 month
First time I ever went to a dietician in my life and I am pleased to say that I am very happy with the services of Ms. Ruchi Goyal from DCN. I came to realize how eating the right food at the right time is so important for a healthy life style. I managed to lose 6.5 kgs in approximately a month with just changes in the type of food I ate. Also, some of the recipes shared by DCN were very tasty and I plan to include them in my regular meals in future. They are actually quite EXOTIC and I have been treating my friends who think that I have suddenly become quite a CHEF. Thank you so much for bringing that positive change in my life.

Mr.Anil Sahni, 51yrs, Panchkula, Dec 2018
Lost 9 kg; from 108.5 kg –99.4 kg in 2 months
I have had a great experience with Ruchi. I was way overweight and wanted to lose the extra weight but was sceptical of a diet as it always involves staying hungry. I am a vegetarian (eat eggs) and also lactose intolerant (milk issues) and quite fussy about my eating habits. But, Ruchi made the plan according to my requirement and such that I was always getting healthy and good food (Very Tasty recipes) which I had not tasted before, and never stayed hungry. I never had to skip meals and was always feeling full and light and in the bargain lost weight without reducing my muscle weight. In 2 months I have lost 9 kgs plus and am feeling healthier than before. Excellent diet plans and lovely and tasty recipes keep you wanting to be on this HEALTHY & ENERGETIC diet. Keep up the excellent work and keep giving me such great Diet plans.

Ms. Sadhavi Kukreja, 28yrs, Chandigarh, Oct 2018
Lost 3.4 kg; from 60.1 kg – 56.7 kg in 1 month
After a decade of surviving on junk food, that too only biscuits and potato chips, I finally decided to sign up for a nutrition plan! One month into it, here I am, not a single junk item. Not that I wasn't allowed to, but I didn't feel the need to. I was a very poor eater and lived on 8 biscuits and 2 packets of chips a day and now, I don't skip a single meal. Thanks to all the delicious food Ruchi makes one eat. I not only weigh less but I feel wonderful too. The glow on my skin is the biggest reward and testimony of the change I have gone through.
A big thanks to Ruchi.

Ms. Anupama Jayaram, 36 yrs, Bangalore, Sept 2018
Lost 5.8 kg; from 85 kg – 79.2 kg in 1 ½ months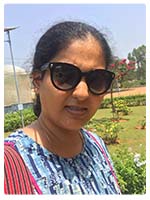 I started the diet plan to reduce the weight from 85 kgs…though I was sceptical about the diet as I
am based in the South and thought it will be difficult to follow. But Ruchi gave a plan according to my preferences. I have already lost 5 kgs and I am looking forward to losing some more. The plan includes all the nutritious and fibrous foods.

Ms. Sabah Sethi, 30yrs., Panchkula, August 2018
Lost4.3 Kg; from 59.5 kg – 55.2 kg in 2 month
My experience with Dietcare has been nothing short of amazing. The diet helped me cure my PCOD which I had for years and helped me lose weight as well as regain my health. I truly trust Ruchi and her diet plans. She helps improve the overall health of a person by making them learn to eat in the right way.

Ms. Neetu Sidana, 40 yrs, Jaipur, Aug 2018
Lost 3 kg; from 70 kg – 67 kg in 2 months
Healthy Diet = Healthy Life. This has been proven so true to me since the time I have started following Ruchi's diet. The chart given by her has not only helped me build a healthy, positive lifestyle but also in improving my gut health. My issues related to acidity and bloating have almost vanished. It is also helping in weight reduction. I am feeling so good about myself, all the time.

Ms. Suriana Manchanda, 32yrs, Panchkula, August 2018
Lost 3.6 kg; from 72.6 kg – 69 kg in 3 months
She is one of the best dieticians I have ever met. After meeting her my daily diet has completely changed, in a very positive way. I can't thank her enough for giving me such good diet plans which keep me full all day and still allows me to lose weight. I strongly recommend her if you want to lose weight, in a correct manner, without starving yourself.

Ms. Deepshikha Sheoran, Panchkula, July 2018
Lost 8 kg; from 73.3 kg – 65.3 kg in 2.5 months
Lactating Mother I had an excellent experience with Ruchi. She proved to me that dieting is not about starving yourself. It's about eating healthy and in right amount according to one's body requirement. I lost almost 8 kgs in 2.5 months with good inch loss. I am loving following her diet plans.

Mr. Shubham Goyal, 19yrs, Panchkula, July 2018
Lost 5.4 kg; from 80kg – 74.6 kg in 3 months
Dieting with DietCare Nutrition has been an exciting time for me. Losing weight, honestly has been the best feeling in the world. Also, Ruchi madam's process and consultation methodology uplifted me mentally. Her diet plan is bang on and works like magic on your body. Not only has my confidence gone up but I have also become more focussed in life.
I'm thankful to you for the time and effort you've put in for me. Without you I'd be still doing the crazy crash 'diet' and beating myself in the gym. And I'd encourage everyone to join DietCare Nutrition because it's legit the best investment of time and money.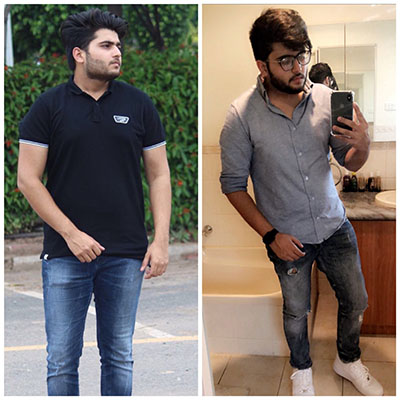 Ms. Manisha Sharma, 29 yrs., Panchkula, July 2018
Lost 3.9 Kg; from 66.6 kg – 62.7 kg in 1 month
After marriage, I gained a lot of weight and hit 66.6 kg with fat all over the body. I was so depressed that I started starving or following crash diets. With Ruchi's guidance to change eating habits and her diet plans, I have lost 3.9 kg in one month, without feeling starved. In fact, she makes me eat tasty food that I feel full whole day and the craving to eat outside has vanished. With her recommendations, I have been able to recover from food poisoning very quickly. I feel more active and confident. She has brought a life style change that will benefit me for the rest of my life.

Ms. Sakshi Gupta,35yrs, Mumbai, June 2018
Lost 1 ½ kg; from 59.1 kg – 57.4 kg in 6 months
The best thing I ever did for my health was to get in touch with Dt. Ruchi. Although, my weight was fine but I really needed to lose inches. On our own, it becomes tough to analyse whether one is on the right track or not. With the diet and the recipes (not to mention.. yummy) provided by Dt. Ruchi, I started to feel toned and lost inches considerably. I was wondering if I would feel weak after following this diet and might not be able to continue with my gym exercises..but nothing of that sort happened.,.I was working out well and did not feel weak. So, all in all being a working mother of a 2-year-old and along with my gym, I found Dt. Ruchi's nutrition plan to be wonderful and very helpful for me in gaining immunity and losing inches.
Ms.Jyoti Nanda, 38yrs, Panchkula, May 2018
Lost 6 Kg; from 76 kg – 70 kg in 3 month
I have unsuccessfully tried various dieticians but used to end up feeling hungry all the time and made every 3rd day a cheat day in to have food. With Dt. Ruchi, there is no need for a cheat day as everyday food is wholesome, fulfilling and tasty. I have been introduced to new foods and have started liking oats, amaranth etc. She also helped solve my gynae problem through changes in diet.
Feel Energetic – gave me good feeling other than normal food and learned new foods like infusion, salads, soups and how to use home spices in different ways.
Different seeds gave me a new twist to my nutritional values.
Recipes like salted steel cut oat and puffed amaranth made me love these foods which I never otherwise like
Puffed rice Poha was an excellent-innovative recipes and very different from all in the tricity.
I have tried many others dietician's and always felt hungry all times and use to hog on every third day on the name of cheat day. Now I don't feel any need of a cheat day only everyday looks like a cheat day, since food is very taste.
Easy to carry food and good for all family.
My kids love all the recipes.
She gave a new concept of no packaged food and learned wheat Dalia is better than wheat flakes which I never knew.
I was having gynae problem she changed my diet according to my problem and helped to overcome it.
I m very thankful to Dt. Ruchi change my life.
Mr.Harmesh Garg, 54 yrs, Baddi – Himachal Pradesh, April 2018
Managed Diabetes through diet – Blood sugar levels brought within permissible levels and medicine halved, within 4 ½ months
My father has been suffering from diabetes for the last 12 years. Inspite of taking allopathic medication twice a day, his right arm nerve got blocked which had to be treated through injections and physiotherapy. He kept feeling lazy, tired and complained of pain in the legs.

4 months ago, someone referred us to Dt. Ruchi Goyal. Having followed her plans, my father's medicine dosage has come down and he feels active and fresh all day. A BIG THANK YOU to you and your team. You are the best dietician. Your coworkers' way of working is highly appreciated. -Daughter of Mr.Harmesh Garg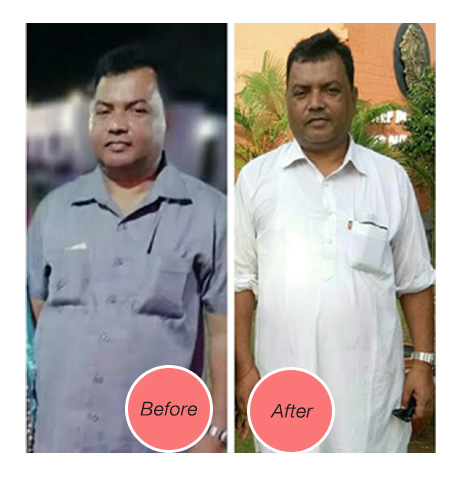 Ms.Kashish Mittal, 18yrs, Ludhiana, May 2018
Lost 7.8 kg; from 100.8 kg – 93 kg in 3 months
The word dieting when it comes to my mind earlier, always meant that we must skip meals. But Dt.Ruchi changed that perception. She has a good idea of mixing and matching foods, which makes us eat without skipping a meal. One always feels full but light on the stomach…Brilliant diet plans.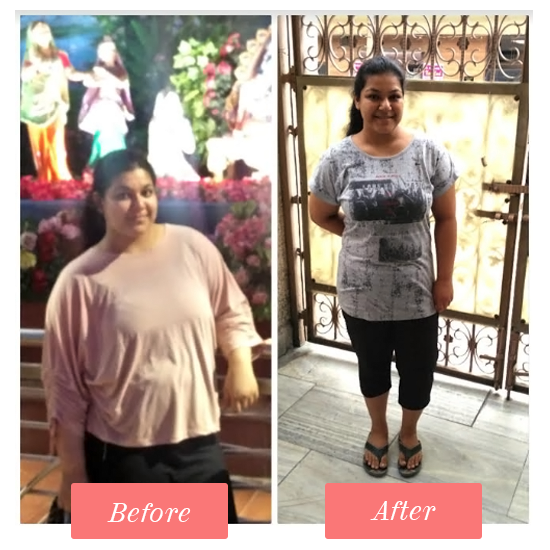 Mr. Rishi Duggal, 38yrs, Ludhiana, 9th June 2018
Lost 4 kg; from 84 kg –80 kg in 20 days
On 7th June when I had my lipid profile tested, the parameters were completely off the permissible limits. The level of triglycerides at 443 shook me and my family.

After having my diet managed by you, today my reports show considerable change..the triglyceride levels have come down to 270 in just 20 days…and there has been a 4 kg weight loss.

Dr. RUCHI GOYAL, you have been my saviour. It was your confidence, knowledge and constant motivation that has helped me achieve this remarkable feat in such a short duration of time.

I thank u from the deepest core of my heart.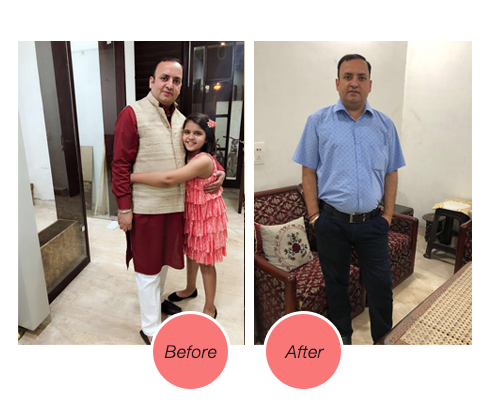 Ms. Ravinder Kaur, 52yrs, Mohali, April 2018
Lost 4.3 kg; from 71.2 kg – 66.3 kg in 2 months
I went to Dt. Ruchi's DietCare clinic in October 2017 and got my first diet chart. But after trying for a day, I stopped as it seemed so tough to make different kinds of foods. The chapter was closed then and there.

Then 6 months ago, I further gained weight. Then on 7th April 2018, I again went to Dt. Ruchi and started her consultation all over again. I set myself a target of trimming my belly fat by the mid of May. The program was a big hit …I lost 1.5 inches around the waist and my weight came down to 68.2 kg from 71.6 kg. The best part of this journey is that one gets to eat a variety of tasty wholesome foods…made with new recipes.

And the cherry on top has been the fact that there is no restriction on eating bananas or mangoes…which were a taboo with my previous dietician. I, therefore lived in perpetual fear that I'll gain weight if I ever ate a banana.

The success continues and I still follow the advice from DietCare Nutrition Clinic. I am on the road to further reduce my weight and in the process, serve yummy food to my family.

Ms. Monika Chachan, 37yrs, Rajasthan (Alwar), Jan 2018
Lost 6 kg; from 67 kg – 61 kg in 3 months
Through DietCare Nutrition, I came to know about good foods options like oat chilla, steel cut oats, quinoa, tofu and many more. This helped me introduce healthy eating habits in my family. I never knew that the feeling of being healthy could be so good. I feel on top of the world when I get compliments from my family and friends.
This entire concept was formulated and personally administered by Dt. Ruchi Goyal.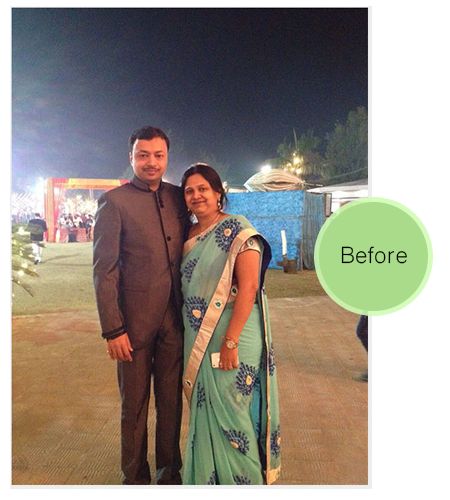 Ms.Yoginder Singh, 78yrs, Chandigarh, March 2018
Lost 4.8 kg; from 78.7 kg –73.9 kg in 2 months
I have always had continuous problems due to my type 2 Diabetes, since its detection 8 years back. I have consulted the best endocrinologists in India. Even with medication my sugar levels are always border line, at times even touching 250-300.
I was referred to Dt. Ruchi Goyal by my doctor. After consultation, Dt. Ruchi planned a diet for me, which I have followed for the past one month. Within 2 weeks my levels have dropped to between 100-120. Now, I am confident that my levels will be under control, thanks to the diet. Thank you Dt. Ruchi for making a difference to my health.
Mr.Ramandeep Singh Bakshi, 42yrs, Delhi, 5th March, 2018
Lost 5.8 kg; from 78 kg –72.2 kg in 1 month
First time I ever went to a dietician in my life and I am pleased to say that I am very happy with the services of Ms. Ruchi from DCN. Came to realize that dieting is not about killing yourself without food but eating the right food at the right time. I managed to lose 5 kgs in less than a month through changes in the type of food I ate. Also, some of the recipes shared by DCN were actually very tasty and I plan to include them in my regular meals in future.
All I can say is that the team at DCN is very good and helpful.
Ms.Nisha Goyal, 35yrs, Panchkula, February 2018
Lost 8 kg; from 80.5 kg – 72.5 kg in 2 ½ months
I am so very thankful to Ruchi as she not only helped me lose 5 kg in a month but made me do it while eating the whole day. I am working and have thyroid issues. She guided me well and made plans as per my schedule. In fact, my entire family has started eating healthy food because she gives awesome recipes that are loved by all. She has changed my notion about diet. I never knew I could feel so energetic and healthy after dieting.
She is the perfect person if one wants to lose weight and stay healthy too. Her knowledge about food is amazing and the way she guides you, so politely, makes the whole journey very joyful. Her staff is wonderful too.

Ms. Amisha Gupta, 36yrs, Chandigarh, December 2017
Lost 16.7 kg; from 86.7 kg – 70 kg in 11 Months
I am very thankful to Ruchi Goyal. Her diets have not only helped me lose weight but even helped me achieve a healthier body. I had severe problem of acidity and bloating, therefore she planned my diets accordingly. She also guided me in overcoming my nutritional deficiencies through the consumption of the right food at the right time and in the right combination.
I recommended all to consult her whether they want to lose weight or want to tackle any health problem.

Ms.Kanika Sharma ,30yrs, Panchkula, October 2017
Lost 9.5 kg; from 100.4 kg – 90.9 kg in 4 months
Totally worth every penny!! Diets are magical!! No monotonous food plans!! I Haven't seen a warm & such an intelligent dietitian in tricity!! So much food variety with definite quantity accompanied with sumptuous recipes!! Feel lucky to have met you! Thank you for guiding me through weight loss as well as assisting in overall health! Exercise prescribed by you is very effective!!

Ms.Apurva Dogra Kapur, 35yrs, Australia, October 2017
Lost 6 kg; from 61 kg – 55 kg in 1 month
I loved my experience with DCN. Weight loss after pregnancy was like a dream which came true because of DCN. Easy to follow diet from Ruchi made me achieve what I never thought I wanted to.

She made sure I got all the nutrition as I was breastfeeding as well. There were so many options to eat; I never knew I was on a diet. I was never hungry or starved. I, effortlessly lost 6kilos in a month.

All the best DCN..appreciate your work and efforts towards your clients!! You have easy to follow recipes which are yummy at the same time.

I will definitely recommend DCN!!
Ms.Anupam Garg, 49yrs, Chandigarh, September 2017
Lost 8 kg; from 97.1 kg – 89 kg in 4 months
Very good results ..my diet has improved in terms of nutrition. The new variety of foods she gives, are all so healthy n good for the whole family. My pre-diabetic state has come to normal.
Ruchi is an awesome person and a superb dietitian.
Aanchal Aggarwal, 30 yrs, Noida, August 2017
Lost 14 kg; from 92 kg – 78 kg in 6 months
There wasn't anything that I couldn't eat while on the program as long as I understood what I was eating and the impact it would have on my progress. Success was up to me. I achieved the results in about four months, without ever feeling hungry.

Ruchi is so non-judgmental and great at listening. She has worked hard to teach me things and think outside the box in terms of ongoing challenges in negative situations. I am always super motivated after my appointments.I think I am making really positive changes in my lifestyle that are making a big difference to my health.

Thanks a lot for your support and cooperation.You firmly believe in eating right and using the highest quality nutritional supplements available, thereby giving me the ability to quickly achieve and maintain my personal health goals and live a happier and healthier life.

Not only have I been able to lose additional weight but I have adopted lifestyle changes which will benefit me for the rest of my life. It is amazing how alert and energized I feel since the beginning the program.
Mr. Loveleen Bansal, 46 yrs., Panchkula, June 2017
Lost 13.1 kg; from 107.1 kg –94 kg in 2 months
Ruchi's diet is absolutely phenomenal. Before I started the program, I was under tremendous stress because of my heavy weight. It affected me not just physiologically but mentally too. But now, after having lost 13.1 kgs in 60 days, I feel relieved and in much better shape. There has been a sea change in my confidence level. I am being complimented for looking 15 years younger.

Thanks to Dt. Ruchi Goyal for transforming my life. She has been a true messiah for me.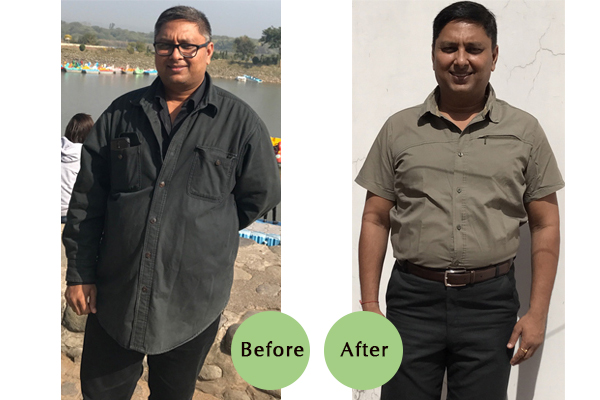 Ms. Neha Rastogi, 34yrs, Bangalore, May 2017
Lost 7.8 kg; from 67.8 kg –60 kg in 5 months
The word 'dieting' has always been a big 'NO' in my dictionary. Post-delivery and after happily breastfeeding my son for three years, I was determined to put control on my weight. My new year resolution for 2017 was to shed a minimum of 10 kg and reach my weight target of 57kg. I was 67.8kg when I had started and today without any fuss I'm at 60.8 kg. I had a plethora of options of following the herbs and the various diet plans being marketed, but wasn't convinced. I had been looking for a diet plan which allowed me to buy and eat items easily sourced and eventually become part of my food habit.

The journey has been great with Ruchi and the team. It was tough at times, but I was determined to achieve the results. And Ruchi has been a great support in providing me ways to make food items delicious as well as beneficial at the same time. Her recipes have been a backbone to my weight loss program.

It has been a good 4.5 months in which I have learnt to eat new things and got to know about benefits of seeds and infusions. These are a part of the essential fats I need. Along with the diet plan, I personally followed a minimum of 4 days of half an hour walk in a week. Cardio activity is an integral part of the plan and the week I missed my walk I could see I'm not doing justice to her regime.

I'm grateful to find her as my Nutritionist. I strongly believe that it would be wrong to say that I am dieting; I am following a 'Diet Change' where Ruchi has ensured that there is no starving, only intelligent eating.
Ms. Suman Sharma, 34 yrs., UK, April '17
Lost 8 Kg; from 85.8 Kg – 77.8 Kg in 3 months
Dear Ruchi,
It has been just 3 months and I have lost around 8 kg. Being a HYPO THYROID patient, losing weight was like a dream for me. My thyroid levels kept increasing despite taking medicines. After numerous attempts at unsuccessful dieting, losing weight became the greatest hurdle for me. I used to stay depressed and always felt uncomfortable about my weight…. until I had a talk with RUCHI.

She has been very supportive and encouraging throughout the whole program. She made the diet plans to fit my lifestyle, ensuring that losing weight was that much easier. It is also not just about losing weight, but also about being healthy and feeling confident. I owe my success to you and I am so glad that I found you.

THANK YOU SO MUCH RUCHI.
Ms.Rajni Khorana, Chandigarh, April '17
Lost 6.4 Kg; from 68.1 Kg – 61.7 Kg in 2 months
I believe that fitness is not about being better than someone else but about being better than what one used to be. Ruchi had planned such nutritious, well balanced, customized diet for me that not only helped me shed those extra kilos but more significantly helped me develop a healthy eating lifestyle.


Earlier, I used to be scared of eating for the fear that I would gain weight and worsen my fitness levels. Ruchi, an awesome person, totally transformed my eating style putting to rest the fear of regaining those extra kilos. I also enjoy the nutritious recipes that are an add on to the diet plan.

I consider myself fortunate for having known Ruchi. She has been an excellent guide in my journey to be fit.

Thanks a ton Ruchi and keep rocking.
Ms. Shivani Aggarwal, 29 yrs, Chandigarh, 11th Jan 2016
Lost 12.4 kg; from 82.4 kg – 71 kg in 4 months
I have had a great experience with DietCareNutrition. Post my delivery I had gained a lot of weight and was shocked when the scales tipped to 82.5 Kg. Ruchi gave me a well-planned and a balanced 5 meal a day diet. I never felt I was starving. It helped to bring down my weight to 71 kg in 4 months. Keep up the good work DietCare Nutrition.. All the best!!
* The results may vary from person to person