This superfood Seed and Nut Mix is probably one of the easiest and healthiest snack to throw together. It is like the 'Panjiri' that is commonly had in the north of India minus the wheat flour.
It is a perfect nutritional supplement that also helps to ward off cold. Also, I have substituted regular sugar with jaggery. Try this mix full of proteins, vitamins, minerals and anti-oxidants. It is a great snack for kids too!
Ingredients

1 Cup Melon Seeds
1 Cup Pumpkin Seeds
1 Cup Flax Seeds
3 Cups Almonds
4 Cups Makhana
1 Cup Sesame Seeds
½ Cup Grated Coconut
½ Cup Chia seeds
2 Tbsp Fennel Seeds
1 Tbsp Ajwain
1 Tsp Turmeric
1 Tsp Dry Ginger Powder
2 Cups Jaggery
2 Tbsp Ghee
1 Tbsp Poppy Seeds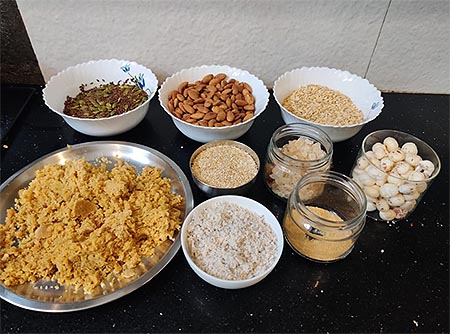 Direction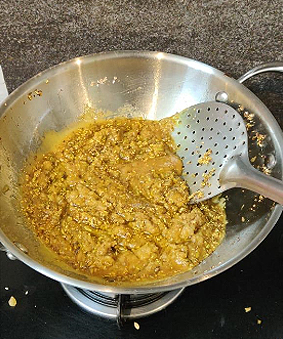 Dry roast all the seeds, makhana and nuts separately.
Coarsely grind all the above ingredients.
Now in a pan add ghee. Roast the fennel, ajwain, turmeric and poppy seeds in this.
Add coconut powder and then add jaggery. Switch off the flame.
Mix the ground seeds, nuts etc. with the above mixture.
The seed mix is ready for consumption.