There would be hardly anyone, who has not savored the crunchy and light Rajgiri laddoos and chikkis. Even as a child, I used to wonder, what these laddoos were made of? Well, the mystry once resolved was an eye opener.
These laddoos were made of a very tiny grain 'Amaranth or Rajgiri'. It gets its name from the Greek word 'amarantos,' which means 'one that does not wither'. Amaranthus could be translated into 'amar' in Hindi, with its Sanskrit roots, 'that which does not die'.
Amaranth, commonly known as rajgiri (king seed), ramdana (seed sent by God) migrated to India from America and is fast regaining popularity here. Native to the ancient Aztec and Inca civilisations, it faded into obscurity, as cultivation of staple crops such as corn and wheat took over.
It has a long history of use and hardly a new or a 'trendy' superfood that it is being made out to be. It has been traditionally used both as a faux grain and as a leafy vegetable (Chulai, both red and green) taking care of nutritional needs of the common man for thousands of years.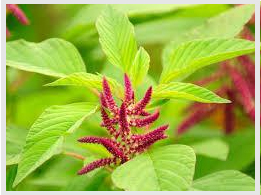 It's a Seed:
Like quinoa, amaranth is not technically a grain like wheat or rice or oats, but is the seed of the amaranth plant. It's sometimes referred to as a "pseudo-cereal" because its nutritional profile is very similar.
Gluten Free:
One of the most important aspects of this tiny grain is that it's gluten-free. When ground, the flour is generally a pale ivory shade, although the red "buds" can be ground as well for a red-tinged and very healthy grain. It is a healthier and less expensive alternative to ingredients commercially marketed in gluten-free products.
Protein Rich:
Amaranth is one of the most protein-rich of any plant-based foods, rivaling animal-based foods like cheese. Not only that but the proteins are easier digested than that of wheat.
One of the most striking feature is the exceptionally superior quality of protein due to the presence of lysine, an important amino acid which is lacking in most grains like wheat. This makes amaranth a complete protein, because it contains all the essential amino acids.
The proteins are more easily digested due to the primary proteins known as albumin and globulins. These, in comparison with the prolamins in wheat, are more soluble and digestible.
It has truly remarkable protein content: cup for cup, 28.1 grams of protein compared to the 26.3 grams in oats and 13.1 grams in rice.
Benefits of Amaranth
Enriched with essential minerals and vitamins like iron, magnesium and Vitamin A, B and C
It contains about twice as much iron and magnesium than wheat. In cooked and edible forms, amaranth retains adequate content of several dietary minerals.
Good source of calcium
It has four times more calcium than wheat and twice that of milk. It is therefore beneficial in repair and strengthening of bones as well as reducing the risk of osteoporosis.
Beneficial in migraine
Rajgiri is beneficial for people with migraine, because being a good source of magnesium, it helps relax blood vessels and prevents constriction and rebound dilation.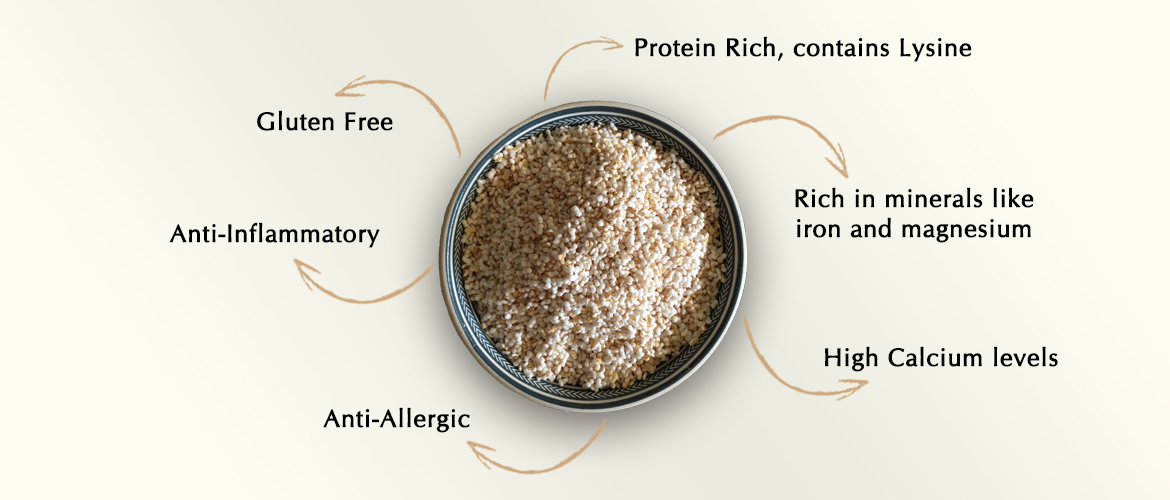 Helps in irritable bowel (IBS)
Due to presence of flavonoids, and its gluten free nature, Amaranth is good for people suffering from irritable bowels. The anti-inflammatory and anti-allergic properties due to the presence of bio-active compounds help give relief from IBS.
Promotes a healthy heart
Rajgiri also contains unsaturated fatty acids and soluble fiber, which help in reducing low density cholesterol (LDL) levels, and make it a heart healthy grain.
Suitable for diabetics
It is a good combination of carbohydrates and proteins thereby helps in reducing instances of hyperglycemia.
Why is Amaranth an important fasting food?
It gives complete, high quality nutrition when included even once a day in our meal.
It is easy to digest and curtails hunger by keeping us satiated for longer periods
One reason amaranth is emerging into the forefront among grains is because of its remarkable nutrition. The laddoos and chikki shall forever remain in demand, but it is time we adopt it to enjoy mouth-watering preparations not just when we are fasting but otherwise too.
DCN TIP
Amaranth can be puffed and eaten as a snack which has a light, nutty, or peppery-crunchy texture and flavor.
It can be used a thickener for sauces, soups, stews, and even jellies.