Traditionally makhana had been an inherent part of not only Indian but the eastern food culture. But in the process of modernizing, a lot of good food traditions had been left behind. Thankfully, these little white, lighter than air balls have recently got a new lease of life. Supermarkets these days are stocking them in various flavors to cater to a population which demands variety. From the simple salted ones to paprika, masala even wasabi! Name it and you have it.
Lotus seed also known as phool makhana is nutritionally very distinct from other nuts and seeds. Unlike other seeds, they are very low in fat and sodium content but high in carbohydrate, fibre, iron and magnesium. These qualities make them a good choice of snacking for everyone and especially for patients of high blood pressure, diabetes and heart disease also.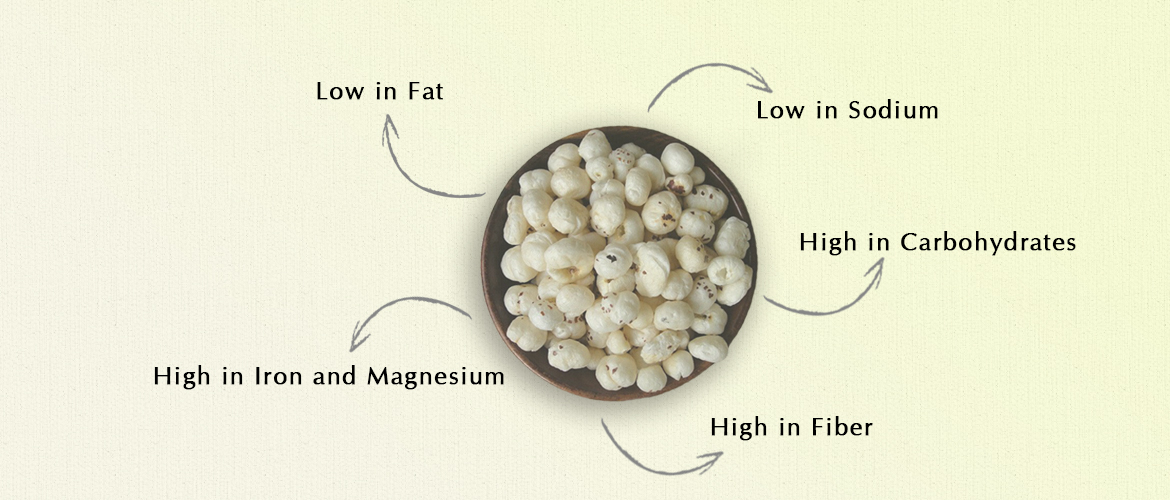 The best part is, they are not only delicious, easy to prepare but also wholesome and nutritious. One can easily roast them at home and add the seasoning to replace the unhealthy tea time snacks.
These nuts can be added to sweet and salty preparations both. We can make healthy choices by adding them in our breakfast cereals, snacks and salads. Their fiber content makes them a very good option to add consistency to dishes like curries and soups. And who can forget the yummy 'makhane ki kheer'. If you haven't tried it, we urge you to do so.
The high protein and the anti-oxidant properties makes them a good choice for vegetarians and vegans too. Due to their anti-ageing property they are now being hailed as a new super food.
Our verdict –
Makhana is packed with nutrients and has a host of health benefits. It is due to these nutritional properties that traditionally grandmothers insisted that they be included in the diet of new mothers. So, time has come for us to again embrace this wonder 'NUT'.
DCN TIP
Add them to breakfast cereal, salads and snacks to increase their nutritional value
One can grind them and add to gravies, curries and soups as a thickening agent